There can be a general misconception amongst workers that health and safety is the concern of their employers and managers and that if any investigation arising out of health and safety incidents will not involve them at their level, particularly in the high risk industry of construction. This is definitely not the case with the legal framework setup to include the actions and omissions of all employees and an express requirement to co-operate with employers when discharging their statutory obligations.
One such case where the specific actions of an employee landed them in court, receiving a suspended jail sentence, due to their staggering disregard for personal safety.
A steel erector has received a suspended jail term after a worker from a nearby office photographed him balancing on scaffold tubes about 27m off the ground and alerted the HSE.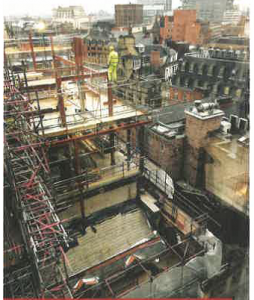 The individual, an employee of a steel erection company, was working on a hotel development in Manchester city centre. The individual climbed up the scaffolding to hammer steel beams into position. Inspectors visited the site about a week later and spoke to the individual, who said he did not realise how high up he was.
They found the subcontractor that the individual worked for had provided him and his colleague with a tower scaffold. In addition, a full-time scaffolder employed by the principal contractor was on site to build safe working platforms for all of the contract workers, if needed.  However, the individual had failed to use the tower scaffold, nor did he ask the scaffolder to make the area safe. He told the HSE that the project was three weeks late and he wanted to finish the job quickly.
According to HSE inspector Matt Greenly, the individual was alone at the time of the breach; his colleague had gone to fetch tools from the van that was parked a five-to-ten minute walk away. The individual pleaded guilty to breaching Section 7 of the Health and Safety at Work Act, for failing to take reasonable care for his safety and the safety of others. He was fined £1,400 plus £2,940 costs and sentenced to six months in prison, suspended for 18 months.
It is not known whether the worker was removed from the site after the incident. His employer finished the contract without any further issues